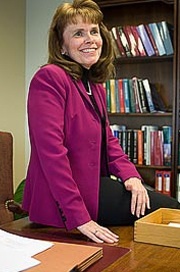 The League City Chamber of Commerce has recognized Coats Rose director Carol Keough as a nominee for the 2012 Athena Award.

The ATHENA Leadership Award® is presented to a woman --- or man --- who displays professional excellence, community service and active assistance to women in their attainment of professional excellence and leadership skills.

"I am so proud to have been chosen to join the remarkable women who have been recognized for this award over the years," says Keough. "Supporting and empowering women to be the best at what they do is something I consider vitally important."

Keough is a director with Coats Rose and has been practicing law for more than 19 years. She is Board Certified in Labor and Employment Law, and specializes in complex litigation including employment/labor, insurance coverage, bad faith/extra-contractual, property damage and commercial business law.

Keough also focuses on representing management in labor and employment law litigation, contract negotiations, and arbitrations.

She has represented clients before administrative agencies, such as OSHA, the Department of Labor, the Department of Justice, the EEOC, the Texas Commissions on Human Rights and Texas Workforce Commission. Keough has handled appeals to the Fifth Circuit, State Courts of Appeals, and the Texas Supreme Court.

The ATHENA Leadership Award® was inspired by the goddess of Greek mythology known for her strength, courage, wisdom and enlightenment—qualities embodied in the ATHENA Leadership Model®.

Coats Rose is a full service business transaction and litigation law firm based in Houston, Texas. For more than 25 years, Coats Rose attorneys have worked with clients in construction/surety law, real estate law, commercial litigation of all types, municipal law, public finance, affordable housing, insurance law, labor and employment law and governmental relations.

Coats Rose is comprised of over 90 attorneys, with offices in Houston, Clear Lake, Dallas, Austin, San Antonio and New Orleans.