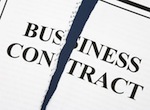 A security system company is suing after not being paid for services.

Stanley Convergent Security Solutions Inc. filed suit June 2 in the Galveston County Court at Law No. 1 against Brandon Smith, also known as Early Leaders Childcare.

According to the complaint, on March, 17, 2010, the plaintiff entered into an agreement with the defendant to install a security system at the defendant's business, 900 First St., La Marque.

After installing the system, Stanley Convergent billed the defendant in the amount of $8,471.79, which the defendant has refused to pay, the suit states.

The defendant is accused of breach of contract, suit on debt, quantum meruit and promissory estoppel.

The plaintiff is seeking $8,471.79 in actual damages, plus costs.

It is being represented by attorney Benjamin K. Sanchez of Sanchez Law Firm.

Galveston County Court at Law No. 1 Case No. CV-0072223



This is a report on a civil lawsuit filed in the Galveston County Court at Law No. 1. The details in this report come from an original complaint filed by a plaintiff. Please note, a complaint represents an accusation by a private individual, not the government. It is not an indication of guilt, and it only represents one side of the story.