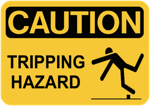 A lawsuit has been filed by a woman who allegedly tripped and was injured at a Port Arthur store.

Vergie Stelly filed suit June 19 in Jefferson County District Court against New Cingular Wireless PCS LLC, doing business as AT&T Mobility, and Celina Dotson.

According to the complaint, Stelly was on the defendant's property at 8445 Memorial Blvd., Suite 100, in Port Arthur on July 17, 2013, when she tripped on an outdoor banner stand and was injured. The defendants are accused of failing to properly supervise employee Dotson in the stand's placement, failing to exercise due care in the stand's placement and negligently placing the stand in a manner to create a hazard.

Stelly is seeking damages in excess of the minimum jurisdictional limits, interest and costs. She is represented by Beaumont attorneys J. Trenton Bond and Chris M. Portner of Portner & Bond PLLC.

Jefferson County District Court Case No. A195-813 This is a report on a civil lawsuit filed in Jefferson County District Court. The details in this report come from an original complaint filed by a plaintiff. Please note, a complaint represents an accusation by a private individual, not the government. It is not an indication of guilt and it represents only one side of the story.