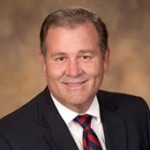 Jefferson County has a new civil court judge with the election of local attorney Kent Walston to the 58th District Court.

A Democrat, Walston defeated sitting Judge Tom Rugg Sr., who had been appointed in April to the 58th for the unexpired term of Judge Bob Wortham, who resigned to run for Jefferson County district attorney.

Walston earned 21,434 votes, or 54.70 percent of 39,183 total votes cast. Rugg earned 17,749 votes, or 45.30 percent of total votes cast.

As of press time Tuesday, the Record was waiting for a return call from Walston.

The Nederland attorney announced his candidacy in November 2013, as soon as Judge Wortham anounced his run for DA.

Walston, 54, is a lifelong resident of Jefferson County and a veteran of the U.S. Navy. Like his father, Walston went to work in a local plant as a process operator.

He then put himself through Lamar University, where he earned a bachelor's degree in business administration. That led to a job as assistant city manager for the city of Nederland.

"I didn't go to law school until I was 35 years old," Walston said at a recent forum.

He received his doctor of jurisprudence degree from Baylor Law School and has practiced civil, family and criminal law for the past 15 years.

"I have practiced law in every court in Jefferson County," Walston said.

He also currently serves and municipal judge for the city of Nederland and previously served as the judge for mental health hearings.

"I have not been a lawyer all of my life," Walston said. "I know what it's like to struggle and live paycheck to paycheck. I have the work ethic."

Although he is running as a Democrat, he calls himself a fiscal and social conservative.

Walston is a member of the Jefferson County Bar Association, the State Bar of Texas, the board of the State Bar CLE Committee, the Texas Family Law Section, Jefferson County Family Law Section, the Jefferson County Criminal Defense Lawyers Association and founder of the Jefferson County Family Law Association. He is also chairman of the Lawyers Professional Assistance Committee.

He serves the community as president of the Hughen Center for Handicapped Children abd the board of Court Appointed Special Advocates (CASA). He was awarded the Port Arthur Sertoma Service to Mankind Award in 2012 and the State Bar of Texas Leadership Award in 2010.

Walston has received endorsements by the police departments of Beaumont, Nederland, Port Arthur and Port Neches; the Jefferson County Sheriff's Association; State Police Coalition of Texas; Beaumont Professional Fire Fighters Local l399; Beaumont Police Chief Jimmy Singletary, Port Arthur Police Chief Mark Blanton, the Sabine Area Labor Council and the International Brotherhood of Electrical Workers.

Rugg could not be reached for comment, but told local television stations that he was proud to have run as a Republican, and was glad to see several Republican candidates win in local races.