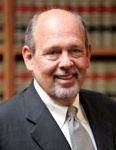 Some of Beaumont's leading plaintiffs attorneys, including the current president of the Texas Trial Lawyers Association, were at the Jefferson County courthouse Tuesday afternoon for a hearing in a lawsuit against the Provost Umphrey Law Firm.
Seeking to restrain the firm for an undisclosed reason, attorney Paul 'Chip' Ferguson Jr., a former firm equity partner who resigned, filed suit against PU on Aug. 4 in Jefferson County District Court.
Both Ferguson and PU have declined to comment on why he resigned.
When filing his suit, Ferguson attached an order to seal. The case originally landed in Judge Gary Sanderson's 60th District Court but was quickly transferred to Judge Donald Floyd's 172nd District Court.
Judge Floyd, who was on vacation when the suit was transferred to his court, sealed the case and has declined to respond to requests for comment.
A hearing for a temporary restraining order was suppose to be held in his court Monday but was canceled and rescheduled for Tuesday at 1:30 p.m.
However, as attorneys showed up for Tuesday's hearing, they were informed the case had been punted back to Judge Sanderson's court.
Judge Sanderson asked the attorneys to meet with him in his chambers. The Record was not allowed to attend.
About 20 minutes later, the attorneys were dismissed.
According to a courthouse official, Judge Sanderson did not make a ruling on the TRO and a request has been made for an outside judge to come in and hear the case.
PU senior and equity partners Bryan Blevins Jr., who is also the current TTLA president, and James E. Payne attended the hearing.
Ferguson was also present. However, his attorney, Glen Morgan, a managing partner at Reaud Morgan & Quinn, was at a funeral and could not attend, according to Ferguson.
When asked why he originally booted the case to Judge Floyd, Judge Sanderson said he knew "everybody involved and that's typically the best thing to do" in that type of situation.
Judge Floyd is also acquainted with the firms involved in the case.
The PU and RMQ firms are top political contributors to Floyd's re-election campaigns, each giving the max ($15,000) to the judge in the 2014 election cycle, campaign finance records show.
Floyd has declined several requests for comment.
A Freedom of Information Act request seeking the suit he sealed has been denied.
Ferguson has handled several prized cases for PU, which includes scoring a $32 million jury verdict against Domino's Pizza in 2013 – a top five verdict in Texas that year, according to the National Law Journal.
Case No. B-197407