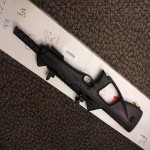 GALVESTON - The prosecution in the capital murder trial of Bartholomew Granger rested its case shortly before noon Thursday, just three days after testimony began.

The jury heard from 11 state witnesses, including a forensic pathologist from the Mississippi State Medical Examiner's Office who looked at the body of Minnie Ray Sebolt a day after the March 14, 2012, Jefferson County Courthouse shootings.

Granger, 42, is accused of killing Sebolt and wounding three other women, including his 22-year-old daughter.

He is also implicated in a hostage situation at a nearby business following the attack.

If convicted, Granger could face the death penalty.

Dr. Lisa Funte told jurors that she performed an autopsy on Sebolt on March 15, 2012.

She said she found two gunshot wounds on the Deweyville resident, who was shot at the front entrance of the Jefferson County Courthouse as she walked in with a friend to conduct routine personal business.

Sebolt did not have any significant health problems when she was shot in the leg and knee, according to Funte. One of the bullets pierced Sebolt's femoral artery, and Funte said her injuries were "rapidly fatal."

A photo of Sebolt in the morgue was shown to jurors with Sebolt's daughter, Deborah Ray Holt, stepping out of the courtroom prior to the display.

Law enforcement officers responsible for watching Granger at the Jefferson County Correctional Facility after he was apprehended also testified.

Chad Kolander, a sergeant in the Detective Division of the Jefferson County Sheriff's Office, testified that the incarcerated Granger issued a statement claiming he did not remember shooting anyone.

Jailers Brian McKeever and Steven Morgan testified that they heard Granger brag to another prisoner that he shot his daughter, Samantha Jackson, twice and then ran her over.

Granger also said that he "does not give a f***" and apparently sounded proud of his actions, the officers both stated.

The defense was set to present its case Friday, but witness problems forced the trial to recess until Monday.