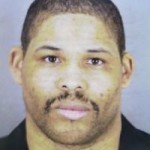 GALVESTON - Attorneys for convicted Jefferson County Courthouse shooter Bartholomew Granger brought in witnesses to testify in the punishment phase.

Granger, 42, was found guilty of murdering Minnie Ray Sebolt, of Deweyville, in front of the Beaumont courthouse the morning of March 14, 2012.

He also shot and wounded his daughter, Samantha Jackson, and her mother, Claudia Jackson, prior to taking employees at a nearby business hostage.

At the time of the shooting, Granger had been in the middle of a sexual assault trial.

Claudia and Samantha Jackson had testified against him the day before and were returning to the courthouse when Granger went to his car and retrieved a gun.

He insisted that he meant to shoot Samantha and her mother, but not Sebolt.

During the trial, he argued that Beaumont police may have killed Sebolt during their shootout with him, however, it was determined that the bullet that fatally struck Sebolt came from Granger's gun.

Among the people to testify Friday were Granger's divorced parents, Ulysses Granger Sr. and Valarie Ozene.

Ulysses Granger Sr. said that he and his youngest child of four never saw much of each other, but was "glad to see him after such a long time" when they met during a jailhouse visit following the shootings.

He added his son told him that he could not remember anything about the rampage other than he "could not control himself."

"I do not like what happened," the elder Granger said.

"But putting him to death will not bring anyone back."

Ozene, who previously took the stand during the guilt-innocence phase, said she stands behind Granger's actions because "he is my son."

She explained that Sebolt "had nothing to do with it", and empathized with her family since her daughter, Granger's sister, was murdered in 1987.

According to Ozene, the Beaumont police bears responsibility for Sebolt's death.

"I need for the cops to be in jail," she said.

Jurors also listened to a cousin of Granger's, a psychiatrist, a pastor and a couple of Jefferson County Correctional Facility inmates who met Granger in addition to audio recordings of jailhouse phone calls.

Granger could serve a life sentence without the possibility of parole or be placed on death row.