AUSTIN – Texas Attorney General Ken Paxton, along with attorneys general from all other states and the District of Columbia, have reached a $13.5 million settlement with Boehringer Ingelheim Pharmaceuticals Inc. in a complaint over alleged off-label marketing and deceptive claims about four of its prescription drugs.
The drugs in question include Micardis, Aggrenox, Atrovent and Combivent.
Paxton's office alleged Boehringer Ingelheim (BIPI) violated the Texas Deceptive Trade Practices Consumer Protection Act (DTPA) by providing deceptive labeling and claims for its drugs.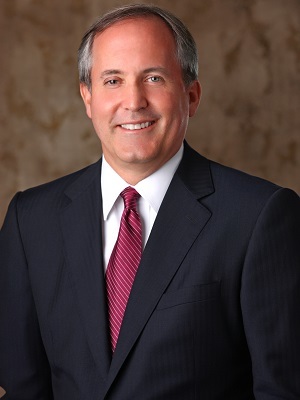 Texas Attorney General Ken Paxton
In its petitions, the states alleged BIPI "engaged in a course of trade or commerce that constitutes false, deceptive or misleading practices and is therefore unlawful under the DTPA."
It is alleged that the drugs in question were purported to have sponsorship, approval, characteristics, ingredients, uses, benefits, qualities and quantities that they do not have.
According to a press release by Paxton's office, Texas' share of the settlement is more than $760,343.
"It is alarming that a pharmaceutical company deceived Texans into potentially taking dangerous doses of medications that may not treat their underlying health conditions," Paxton said in a Dec. 21, 2017, statement. "This settlement makes clear that we will hold pharmaceutical companies accountable for misleading claims made in advertising. Texans should be able to trust that ads for prescription medications are medically accurate."
According to the state's petition filed in the Dallas County District Court in December 2017, the company claimed Aggrenox was superior to other drugs when it didn't have evidence to substantiate its claims. It also claimed Aggrenox was effective in the treatment of heart attack and congestive heart failure, when it allegedly didn't have any evidence to support its claims.
The petition states BIPI claimed Micardis could protect consumers from the early morning risk of heart attacks or strokes in patients near the end of a dosing interval for hypertension drugs. However, it didn't have any supporting evidence, the petition states.
Further, BIPI claimed Combivent could be used as a first-line treatment for chronic obstructive pulmonary disease when it isn't indicated as a first-line treatment. BIPI also didn't have supporting data for its claim, according to the petition.
The company also claimed Atrovent and Combivent could be used at doses that exceeded the maximum dosage recommended on labeling without supporting evidence, the petition states.
By making unsubstantiated claims, the company allegedly engaged in a pattern of activity that violated the DTPA.
The final judgment and permanent injunction requires the drug maker to make sure that its marketing and promotional practices properly represent its products.
Kansas and Pennsylvania headed a multi-state executive committee that also included the attorneys general from Arizona, District of Columbia, Illinois, Indiana, Nevada, Tennessee and Texas.
Moreover, all 50 states and the District of Columbia are participating in the settlement. "However, due to a change in Arizona law, that state's settlement does not include certain injunctive terms related to off-label marketing," Paxton's statement said.