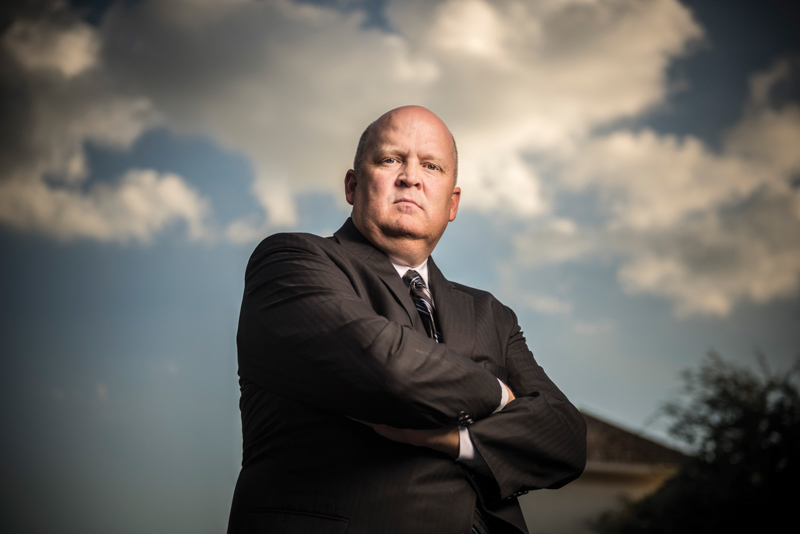 Photo from San Antonio Magazine.
MINNESOTA – A renowned San Antonio lawyers whose had has share of legal problems in recent years is now facing a class action brought by corn farmers he represented in the Syngenta AG litigation.
Mikal Watts and his joint venture partners secretly sought to exclude 60,000 farmers from class actions filed in federal court in a "fraudulent scheme to extract unreasonable fees," according to a lawsuit filed by Kellogg Farms on April 24.
In 2014, Syngenta, the world's largest seed supplier, began to be hit with waves of lawsuits brought by Kansas farmers claiming the company negligently marketed genetically modified corn seed, which caused crop contamination and a very costly rejection of export to China.
Kellogg Farms alleges around 60,000 farmers were "deceptively solicited" to sign 40 percent contingent fee retainer contracts with Watts to pursue individual lawsuits rather than class actions.
"Farmers were secretly excluded, without their knowledge and consent, from participating in class actions against Syngenta in federal court multidistrict litigation in Kansas and … Minnesota, where attorneys' fees are determined by the presiding courts as fiduciaries for the members of the class," the suit states.
"Farmers have been deprived of the opportunity to make an informed decision as to whether to pursue an individual claim or a class action claim without representation by Defendants, thereby subjecting Farmers to Defendants' fraudulent scheme to extract unreasonable fees."
The first judgment against Syngenta was delivered last June – a $217.7 million jury verdict. A few months later, a global settlement was reached with a common fund of $1.51 billion.
Attorney fee awards in class actions, with a common fund damage award, are typically about 10-12 percent for funds of $200-900 million or larger, versus the 40 percent individual growers will pay from claim proceeds.
According to the lawsuit, Watts "dishonestly" told farmers individual suits were better because "class actions only recover coupons for plaintiffs."
"Farmers were dishonestly told through a barrage of television and internet advertising, direct-mail campaigns, and hundreds of in-person 'town hall' community meetings … that a 'mass tort individual suit' is better than a class action," the suit states.
Watts and his joint venture partners filed some 60,000 individual lawsuits in Minnesota state district courts, pleading only state claims to avoid removal to federal court and transfer to the MDL class action proceedings in Kansas.
Watts and his team entered into secret joint prosecution agreements with the lead counsel in the MDL class action with an explicit agreement to exclude the 60,000 Farmers from class certification, the suit claims.
"The driving intent of the agreements, filed under seal, was to ensure the continuation of Defendants' 40 percent contingent attorney fee scheme, rather than allowing the Farmers to fall as a matter of law into the class actions where fee awards would be determined by the presiding judge," the suit states.
"Defendants never advised Farmers of the class action proceedings in federal and state court covering the Farmers and their claims. Defendants never advised Farmers of the merits of those proceedings and what is in the best interest of the Farmers.
"Defendants never informed Farmers that they entered into secret Joint Prosecution Agreements with lead counsel in class action lawsuits in the MDL and Minnesota to exclude Farmers from the respective classes.
"Defendants effectively opted Farmers out of the class proceedings without informing them of their options and rights."
The plaintiffs are asking the court to declare the defendants' retainer contracts void; that they have forfeited their claim to any compensation from individual farmers; and that they have waived any quantum meruit claim against farmers "through their dishonest representations and omissions and conduct."
They are seeking more than $5 million in damages.
The other plaintiffs in the suit include Kenneth and Rachel Kellogg and Roland Bromley of Bromley Ranch.
Minneapolis attorney Douglas Nill represents them.
In addition to Watts, other defendants named in the suit include Watts' firm, Watts Guerra and his partner, Francisco Guerra, along with the Yira Law Office, Hovland and Rasmus, Dewald Deaver, Givens Law, Mauro Archer & Associates, Johnson Law Group, Wagner Reese, VanDerGinst Law, Patton Hoversten & Berg, Cross Law Firm, Law Office of Michael Miller, Pagel Weikum, Wojtalewicz Law Firm and John Does 1-50.
Filed in the U.S. District Court of Minnesota, case No. 0:18-cv-01082-DWF-BRT