DALLAS – A Texas man who received a multimillion dollar jury award in 2015 after his leukemia was found to have been caused by years of exposure to benzene in the paints and paint thinners he used on the job will receive nothing, a state appeals court ruled earlier this month.
The 5th District Court of Appeals at Dallas reversed the more than $8 million trial court judgment May 8, excluding punitive damages awarded by the jury, and ruled that "Virgil Hood and Lorrie Hood take nothing on their claims against appellant E.I. Du Pont de Nemours and Co.," the appeals court said in memorandum opinion.
"The evidence of causation is legally insufficient to sustain the verdict in this case," the opinion said in the conclusion of its 37-page memorandum opinion issued May 8. "We reverse the judgment of the trial court and render a take-nothing judgment in favor of DuPont."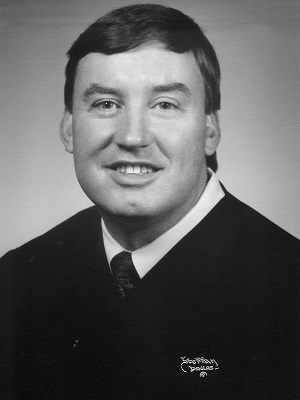 Texas Fifth District Court of Appeals at Dallas Justice David Bridges
Appeals court Justice David Bridges wrote the opinion. The other two justices on the panel were Justice Lana Myers and Justice David Schenck.
Virgil Hood had been exposed to paints and paint thinners manufactured by E.I. DuPont de Nemours as part of his daily routine on the job as a painter in Colorado from 1973 and 1996, when he was employed by semi-trailer manufacturer Timpte Trailers, according to an October 2015 press release issued by Waters, Kraus & Paul LLP. Waters, Kraus & Paul represent Virgil Hood.
Virgil Hood also did painting work for Houston-based Continental Airlines in that time, according to the press release. Hood retired from Continental Airlines in December 2014, according to the background portion of the appeals court's opinion.
"In 2012, Hood began feeling tired and run down," the opinion said. "After a physical, followed by blood tests and a bone marrow biopsy, he was diagnosed with AML [acute myeloid leukemia]. Hood filed a products liability lawsuit against numerous defendants, including DuPont, Sherwin-Williams Co., and PPG Industries Inc. He asserted that his exposure to solvents, primers, paints, lacquers, enamels, oils, petroleum products, and fuel designed, manufactured, sold, and distributed by the defendants contained benzene, which caused him to develop AML. A jury found DuPont liable for defective design and manufacturing defects. It also found gross negligence. It awarded over $7 million in damages, including $1.5 million in punitive damages and $1 million in future medical expenses."
DuPont appealed, arguing that the expert testimony presented to the jury during trial failed to establish causation between Virgil Hood's exposure and his blood cancer "and is therefore legally insufficient to support the verdict," the opinion said.
"It also challenges the trial court's refusal to submit to the jury a design-defect liability question," the opinion continued. "Lastly, DuPont argues the evidence is insufficient to support the jury's award of future medical expenses."
The Hoods also filed a cross-appeal that challenged the trial court's order granting DuPont's judgment notwithstanding the verdict and asked the appeals court to reinstate about $1.5 million punitive damages that the jury had also awarded.
Having found that the expert testimony relied upon by the painter to establish causation was unreliable, the evidence on causation was legally insufficient to support the verdict in this case, and, therefore, the appellate court reversed the trial court's judgment and rendered a take-nothing verdict in favor of DuPont.
The appeals court agreed with DuPont about expert testimony and a lack of causal linkage between Virgil Hood's exposure and his cancer.
"This is not a case in which the dose expert failed to offer any basis for his opinion," the appeals court's opinion said. "But our review requires this court to look beyond the expert's statements."
One of the two experts who testified at trial, industrial hygienist Dr. James Stewart, "identified the factual basis on which he relied to calculate benzene exposure, but the facts on which he relied to make the calculation do not actually support his opinion, and each material part of an expert's theory must be reliable," the opinion said.
"Dr. Stewart failed to connect the data to his opinion by using reliable, undisputed facts. Instead, he relied on assumptions and then simply picked the median exposure number from the range ART [Advanced Reach Tool] calculated, which meant fifty percent of the predicted exposures would be lower than the ART results Stewart relied on at trial. Stewart admitted an expert could select any value within this range, even the extremes," according to the opinion.