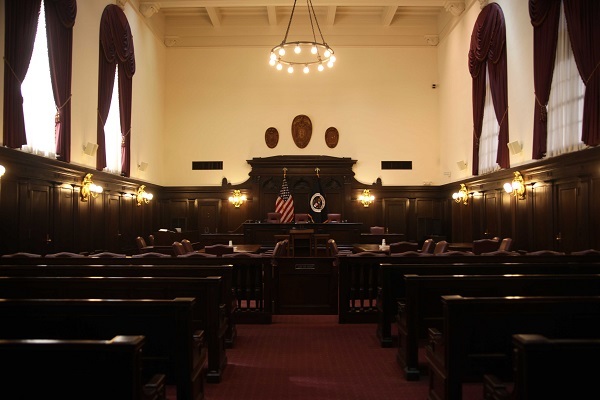 NEW ORLEANS – Dozens of media organizations, including the American Society of News Editors, have filed a friend of the court brief in a case before the Fifth Circuit Court of Appeals that could determine whether state anti-SLAPP statutes apply in federal court.
Seeking $100 million in damages, Cross Roads resident Jason Lee Van Dyke filed suit against Thomas Retzlaff in March, claiming Retzlaff wrongfully labeled him a drug addict and a white nationalist.
The suit was removed to federal court in April. Retzlaff then filed his first motion to dismiss, pursuant to the Texas Citizens Participation Act – an anti-SLAPP statute designed to encourage and safeguard the constitutional rights of persons to speak freely.
On July 24, a federal judge denied Retzlaff's motion to dismiss, ruling that the Texas statute doesn't apply to federal courts.

Retzlaff
Court records show Retzlaff filed his appellate brief on Nov. 21, questioning whether in fact the TCPA does apply in federal court.
Retzlaff's comments about plaintiff were constitutionally protected criticism of (Van Dyke)…," the brief states. "Yet, plaintiff sued to chill Retzlaff's criticism. The growing use of SLAPPs to squelch public criticism is precisely the reason the Texas Legislature adopted the TCPA by a unanimous vote in both houses in 2011."
Dozens of media organizations would also like to keep free speech from being chilled by frivolous lawsuits in federal courts.
On Nov. 28, The Reporters Committee for Freedom of the Press, along with 39 other news organizations and individuals, filed an amici curiae brief in the case, stating that they "have a strong interest in ensuring" that protections against frivolous suits intended to chill speech "apply in federal courts to ensure a robust, unfettered exchange of ideas as envisioned by the First Amendment."
"American democracy depends upon informed and active citizen participation in public discussion and debate, but a rising tide of frivolous litigation aims to silence that participation by saddling protected speech with the high cost of defending it in court," the brief states.
"These 'strategic lawsuits against public participation' (SLAPP) suits, are filed not to win but to intimidate 'by increasing the cost of litigation to the point that the citizen party's case will be weakened or abandoned,' thereby chilling the exercise of First Amendment rights."
The District of Columbia and 32 states, including Texas, have some form of an anti-SLAPP statute.
"In state courts throughout the United States, news organizations frequently depend on the TCPA and other anti-SLAPP statutes to terminate prolonged, expensive litigation brought to retaliate against them for reporting on matters of public concern," the brief states. "Given the nature of the print and online publishing industry, news organizations facing defamation and other similar state-law claims often end up in federal court through diversity or supplemental jurisdiction.
"Without the benefit of anti-SLAPP protections in federal court, however, journalists and news organizations will confront the very same chilling effect from which they are protected in state court. Not only will this disparity encourage litigious plaintiffs to forum shop, but many journalists and news organizations may choose to remain silent rather than run the risk of protracted federal court litigation."
If the Fifth Circuit determines the TCPA's protection is unavailable in federal courts, the ruling would encourage litigants to shop for a federal forum and would significantly disadvantage defendants entitled to anti-SLAPP protection, according to the brief.
Other media organizations listed in the brief include The Associated Press, Dow Jones & Company, Fox Television Stations, Hearst, NPR, The New York Times, Texas Press Association and Politico.
Case background
In his suit, Van Dyke asserts Retzlaff, who is reportedly a convicted felon and a "vexatious litigant," falsely claimed that the former threatened his life and those of his family after he lost his job with the Victoria County District Attorney's Office.
The suit asserts that Retzlaff "controls a Web site that has been responsible for tortious conduct against Van Dyke."
Known as "BV Files," the site purportedly contained statements alleging the plaintiff has a criminal record for abusing women and has committed professional misconduct against Retzlaff.
Retzlaff was additionally accused of doxing the address of Van Dyke's now-former employer, Karlseng, LeBlanc & Rich, as well as emailing its principals with disparaging remarks about him.
KLR fired Van Dyke on March 27.
Van Dyke is representing himself.
The media organizations are represented in part by Thomas Leatherbury of the Vinson & Elkins in Dallas.
Retzlaff is represented by Jeffrey Dorrell, attorney for the Houston law firm Hanszen LaPorte.
Eastern District of Texas case No. 4:18-cv-00247
Appeals case No. 18-40710