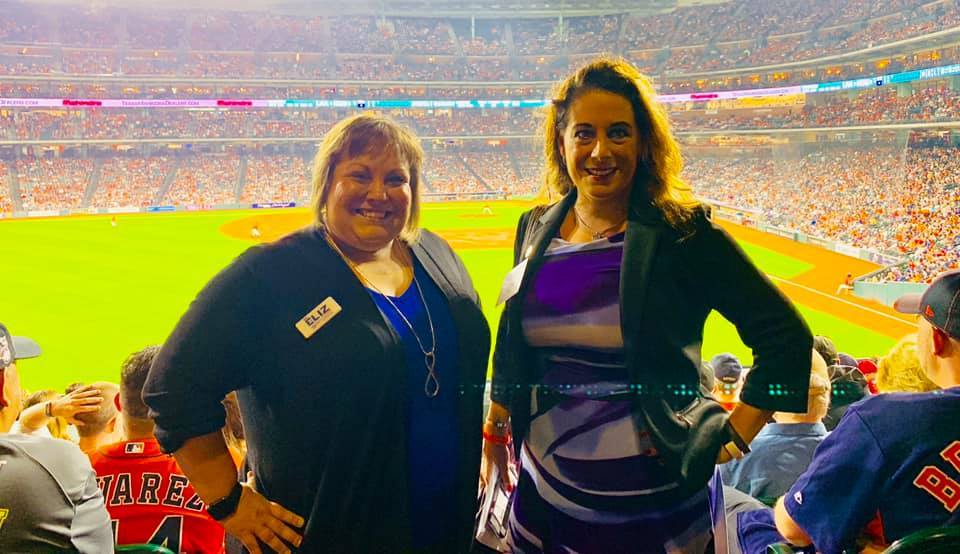 Markowitz (left) with Rep. Calanni at an event hosted by the Houston Trial Lawyers Association at Minute Maid Park
HOUSTON – Democrats believe they finally have a shot at reclaiming the Texas House in 2020, a bid for dominance that may start with a win in the rapidly approaching special election for HD 28 – a race that has apparently drawn the attention of influential people living outside of the state.
Early voting has already begun for the seat, which was vacated by Dr. John Zerwas, a Republican who retired from the Legislature on Sept. 30 to work as an executive vice chancellor at the University of Texas Health System.
In stark contrast to the half-dozen Republicans vying for seat, only one Democrat is trying to cross the finish line, Elizabeth Markowitz, a teacher of teachers who seems to have garnered the support of some powerful groups.
Markowitz isn't exactly a stranger to politics, losing her run at the Texas State Board of Education last November – a race that saw money from an out-of-state PAC flow into her coffers.
Three weeks after the Nov. 6, 2018 election, People for the American Way Action Fund donated $1,000 to Markowitz's campaign, according to a report filed with the Texas Ethics Commission.
The report covers a period from Oct. 30, 2018 to Dec. 31, 2018 and states the office sought as State Board of Education District 7. PFAW made the $1,000 donation on Nov. 29, 2018 – 23 days after the election.
A major donor to PFAW includes George Soros' Open Society Institute. And it seems another PAC with ties to Soros has an interest in Markowitz's current race too.
At the start of early voting, the super PAC Forward Majority began airing a health care-themed ad in support of Markowitz, praising her for "looking out for Texas families" instead of "insurance company profits."
Forward Majority is spending more than $200,000 to get the message out, according to The Texas Tribune.
Last October, the Sixteen Thirty Fund donated $1 million to Forward Majority, according to opensecrets.org.
The Sixteen Thirty Fund falls under the umbrella of Arabella Advisors—an intricate dark money network containing dozens of liberal groups and projects, according to an article in The Washington Free Beacon, entitled: "Soros Fuels Dark Money Judicial Group That Fights Kavanaugh, Trump Nominations."
"Soros's policy center sent $1.3 million more to the Sixteen Thirty Fund during the second quarter of 2017," writes Joe Schoffstall in the article. "Those funds are not marked toward any particular group, but instead are reported as supporting advocacy on executive nominations, policy advocacy on social safety net programs, and cross-sector policy advocacy and planning."
The article discusses how Demand Justice, a left-wing advocacy group that was established to push back against President Trump's judicial nominations, is a project of the Sixteen Thirty Fund. The "dark money" group was at the forefront of the battle against Justice Brett Kavanaugh and was "heavily financed" by Soros, the article states.
Billionaires living in New York aside, Markowitz's campaign finance reports show she's received a significant monetary boost from dozens of Texas attorneys and at least one disbarred attorney.
On Sept. 22, Rep. Ron Reynolds, an area legislator who was disbarred for barratry in August, donated $100 to Markowitz.
A day before Reynolds' donation, Markowitz made a post on Facebook thanking Rep. Gina Calanni for inviting her to an "Astros event hosted by the Houston Trial Lawyers Association."
Prior to the "Astros event," Markowitz had already received several sizeable donations from several notable attorneys, including a $1,000 donation from Kathy Cheng, a Democrat who unsuccessfully ran for the Texas Supreme Court last year, and a $500 donation from Abel Herrero, a Democrat representing HD 34.
Markowitz did not respond to a request for comment.
The special election will be held on Nov. 5. Gary Gates is a frontrunner among the Republican candidates.