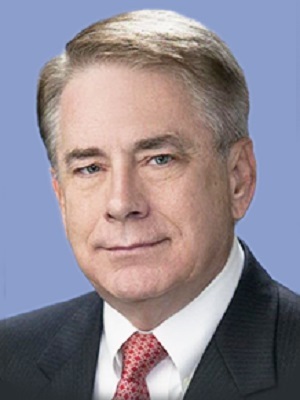 Texas First District Court of Appeals Justice Russell Lloyd | txcourts.gov/
While a couple who previously lost their health care liability lawsuit for not offering an adequate expert report, they were victorious in their appeal.
The Court of Appeals for the First District of Texas reversed the dismissal of Nancy Carmen and Ronald Curnel's lawsuit against Houston Methodist Willowbrook Hospital, The Methodist Hospital, Obioha Tobechukwu Emenanjo, RN, Linqun Michelle Jiang, RN, and Moshir Simon Bansuan, RN on Dec. 31.
Justice SarahBeth Landau wrote the opinion while Justices Russell Lloyd and Gordon Goodman concurred.
They noted that the couple used experts Registered Nurse J. Fomenko, Dr. D. Kett, gastroenterologist, Dr. T. Sheer to back their claims, including causation. But the judges pointed out that Fomenko is a nurse, so she's not qualified to give an expert opinion on causation, according to the Medical Liability Act. As for Dr. Kett, he failed to address Methodist in his report, leaving the judges to evaluate whether Dr. Sheer offered a sufficient opinion on causation.
Judge Landau wrote, "Based on Dr. Sheer's expert reports, the trial court could have concluded Curnel made an objective good faith effort to comply with the expert report requirements."
The judges also ruled that Dr. Sheer's reports properly showed how and why Methodist's breach of the standard of care is what caused Nancy's extensive liver injuries.
When it comes to the foreseeability of her injuries. Dr. Sheer pointed out the risks of negligence and added that the nurses in question knew that Nancy could suffer hemorrhaging because it's listed on the consent form. Dr. Sheer called out the nurses for not complying with the chain of command and instead "personally intervene[d] before knowing the results of the medical evaluation, "according to the lawsuit. The judges say Dr. Sheer's report properly shows how the nurses could have foreseen Nancy's injuries.
Considering this, while the other two expert reports weren't an adequate fit, the judges ruled that Dr. Sheer did his part, and reversed the previous dismissal of the case, remanding it back to the lower court.
The ongoing lawsuit sparked after Nancy was diagnosed with a urinary tract infection while visiting a walk-in clinic on Oct. 4, 2015. She was prescribed the nitrofurantoin antibiotic but ended up in Willowbrook less than a week later with elevated liver enzymes. She alleges Dr. M. Esantsi incorrectly diagnosed her with viral hepatitis and told her to continue taking the prescribed medicine. She was admitted, but after a series of events was told to do a biopsy. Unfortunately, a radiologist hit her artery which caused her to go into shock, suffer anemia as well as intra-abdominal hemorrhage. She had to undergo several blood transfusions, get on multiple medications to keep her blood flow and was in ICU for an extensive period of time.