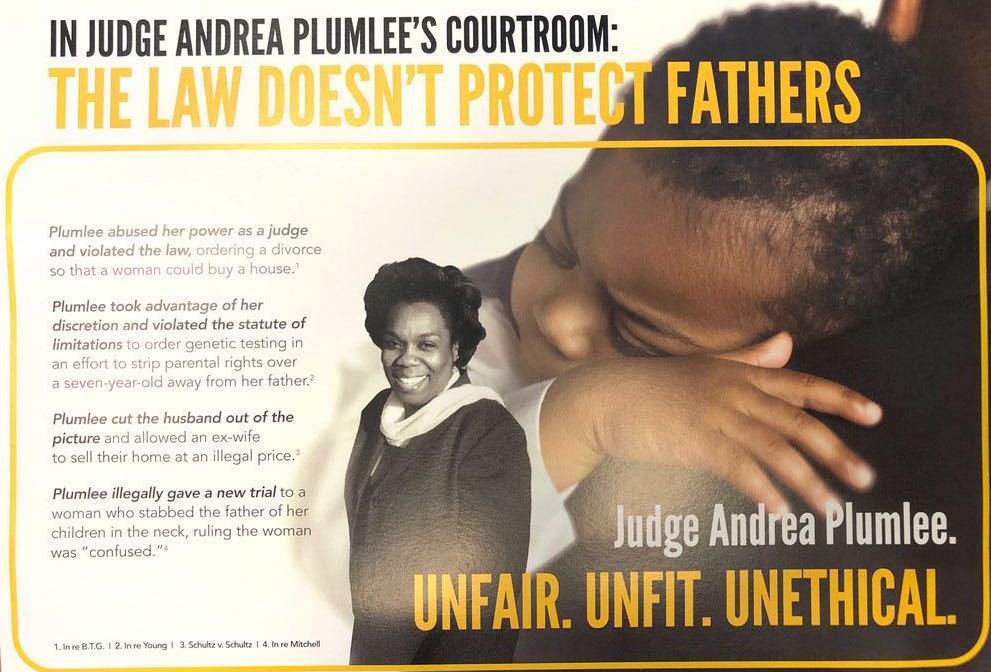 The backside of a postcard sent to Dallas County residents
DALLAS – Judge Andrea Plumlee isn't up for re-election this year, but it seems someone is actively campaigning against her.
As previously reported, Plumlee, a family court judge who has presided over the 330th District Court since 2010, has a long history of being reversed by the Fifth Court of Appeals. And apparently someone in Dallas County wants local residents to be aware of that.
The Record has obtained a postcard mailed out to Dallas residents. The front of the missive is pretty basic, simply stating: "Judge Andrea Plumlee, a troubling record of unfairly treating fathers."
The backside is a bit more detailed, however, calling the judge "UNFAIR, UNFIT, UNETHICAL" and listing four specific cases, some of which were reported on by The Record, where Plumlee's decisions were examined and corrected by a higher court.
The cases stated in the postcard are as follows:
- In re B.T.G, "Plumlee has abused her power as a judge and violated the law, ordering a divorce so that a woman could buy a house;"
- In re Young, "Plumlee took advantage of her discretion and violated the statute of limitations to order genetic testing in an effort to strip parental rights over a seven-year-old away from her father;"
- Schultz v. Schultz, "Plumlee cut the husband out of the picture and allowed an ex-wife to sell their home at an illegal price;" and
- In re Mitchell, "Plumlee illegally gave a new trial to a woman who stabbed the father of her children in the neck, ruling the woman was 'confused.'"
On a number of occasions, the Fifth Court of Appeals has found that Plumlee has abused her discretion and manufactured rulings outside the guidelines of the Texas Family Code.
Appellate courts exist to ensure lower courts are applying the law correctly, giving parties a chance to have their cases reviewed following a trial court's ruling. However, not every case is accepted and the process always ramps up the legal bills of both parties.
And while not many would argue that judges aren't suppose to be impartial and strive to properly interpret the law, Plumlee may have her own "vision" for how the 330th District Court should be run.
Plumlee, a Democrat, declined to respond to a request for comment, but her campaign website may say it all: "I am working to implement my vision for the court…"
The identity of the person who sent the postcards remains a mystery, for now. Regardless, his or her efforts may be for nothing, as Plumlee ran unopposed by Republicans in 2014 and 2018.
In 2014, however, Plumlee was challenged by Randall Grubbs in the Democratic Primary – a race she easily won despite an unfavorable editorial recommending her opponent to voters.
Here's what the Dallas Morning News had to say about Plumlee at the time: "While every new judge has a learning curve, Plumlee, 49, has not distinguished herself in the eyes of attorneys. In the Dallas Bar Association's judicial poll, fewer than half of 100 attorneys responding thought she was prepared for trial and, more troubling, less than 40 percent thought she was impartial and demonstrated an adequate knowledge of the law.
"We find these assessments troubling given that Plumlee is not board-certified in family law and had no judicial experience before her 2010 election."